"We can take a beating..." Kings Of Leon get personal in the new Q.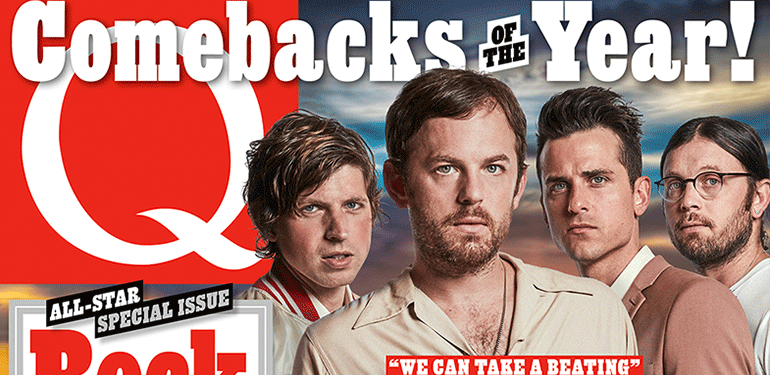 In the new issue of Q, we head to Nashville to hear how Kings Of Leon shook things up for their seventh album. Over four intimate portraits with the Followills, Q's Niall Doherty sits on a mansion porch with Caleb to discover how the record contains "really raw emotional things about me and my family," gets a tour of Matthew's house, hears how Jared can't keep away from negative Facebook comments and goes for lunch at Nashville's best BBQ joint with Nathan.
On sale from Tuesday 20th September, the issue also features an exclusive interview with Beck. Modern music's king of reinvention welcomes Andrew Perry to LA to talk through his diverse back catalogue and explain how his artistic mutations have more to do with luck or misfortune than they do with design. Jamie T tells Laura Barton why his new album is a celebration of the British "lack of enthusiasm", former Bee Gee Barry Gibb invites Sylvia Patterson for a vindaloo to talk through his extraordinary life and music and Hamish MacBain heads backstage at Metallica's show in Minneapolis to hear drummer Lars Ulrich reveal the secrets behind their forthcoming new album.
Also in the new issue, Chrissie Hynde bats off readers' queries in Cash For Questions, Savages' Jehnny Beth runs through her 10 Commandments and influential Mancunian radio presenter DJ Semtex reflects on 30 years at the forefront of rap music. This month's Q Maverick is synth-pop icon Marc Almond, who tells Simon Goddard how he overcame drug binges, tabloid slurs and a mental breakdown to find peace with being a popstar.
The new and improved Q Review section is your music guide for the month ahead, with reviews of new albums from Bon Iver, Devendra Banhart, Green Day, Pixies, Kate Tempest, Julia Jacklin, Frank Ocean, Warpaint and many more, and there's on-the-road reports from Thee Oh Sees and PJ Harvey.
.
Get your copy – in print or on digital – on sale from Tuesday, 20th September 2016.
 
Get Q On Digital