Playlist - Syd Arthur's World Music selections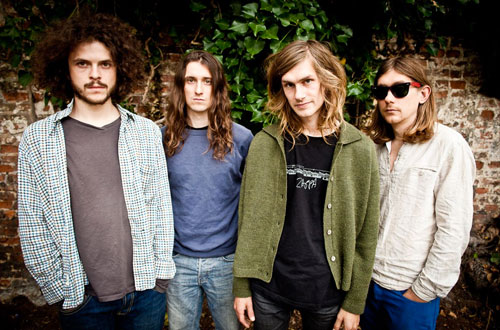 If you see Syd tell him... Syd Arthur are a band not a man. Despite the confusing nomenclature, there's nothing unclear about the group's desire to marry musical traditions from across the world on their debut On And On. With a tour kicking off this weekend (9 February) and single Ode To The Summer / Edge Of The Earth out 11 March, they've put together a Playlist of the "World Music" that's inspired them.
Mahmoud Ahmed - Sidetegnash Negh / Samiraye "A few years back during our annual pilgrimage to WOMAD music festival, we all managed to stumble across one of the most amazing, awe-inspiring performances we have all witnessed. It turned out to be the psychedelic sounds of Ethiopian legend Mahmoud Ahmed, and it started our journey to search out more from this often overlooked African country. Best place to start is the amazing, well-informed, Ethiopiques series for more sounds and info."
Hermeto Pascaol - Forro Brasil "This guy is one of the most musical beings to have ever walked the planet. A multi instrumentalist who can make sublime music with either traditional means, or bowls of water, bottles and kids toys. This track showcases his amazing arranging and band leading skills. He has surrounded himself with musicians that were once his students, spending all their time learning his musical language so they become one big organism that Hermeto can shape and rearrange in the moment."
Jorge Ben - Take It Easy My Brother Charles "We first discovered the Brazilian Tropicalia movement through some mutual friends and the excellent Soul Jazz compilations. It led us on an extensive search through the many facets of this movement and its highly political and sonically experimental music. Jorge Ben was a leading figure, and it's easy to see why from this cut!"
Konono No 1 - Makembe "If you're new to the trance like sounds of Konono No 1 then you're in for a treat! They make their own instruments and sound systems from the huge metal scrap yards found in the Democratic Republic Of Congo, most notably the electric likembé that helps produce their distorted signature sound."
Cimarron - Joropo Quitapesares Another WOMAD discovery... The distinct Columbian sounds of Cimarron were a revelation. Fiery percussion, harp and break-neck instrumentation combine to create the sounds of the cattle herders of the Colombian plains they call "music llanera."
Thomas Mapfumo - Shumba "Known as The Lion Of Zimbabwe, Mapfumo is a musical visionary whose highly politicised lyrics criticising the government of Robert Mugabe led him to be exiled from his own country. He's responsible for being one of the first musicians to take the rhythms and patterns of his traditional 'shona' music and transpose them onto modern western instrumentation like the electric guitar. He created the signature sound over which his slow-moving distinctive vocal style flourishes."
Mulatu And The Heliocentrics - Chik Chik "This track comes from a great album by fellow musicians the Heliocentrics collaboration with Ethiopian Jazz legend Mulatu Atstatke. They have a great approach to making records, using tape and mixing through old outboard gear, keeping it raw... All about the high hat on this one".
Bela Fleck And D'Gary - D'Gary Jam "Although Bela Fleck is normally considered one of the world's finest purveyors of the banjo, traditional through to forward thinking fusion, his latest series of works, a journey through the historical origins of the banjo, has led him to visit some amazing places and perform with some great musicians in Africa. The track here is an improvised piece, captured by Fleck on his travels with a modest recording setup, that showcases the Madagascan guitarist D'Gary and a fine collection of players as they find common musical ground to improvise within."
Rob - He Shall Live In You "This is a solid chunk of psychedelic African groove from the enigmatic recording artist from Ghana, known only as Rob. It's broody, vibey and has a strangely enticing atmosphere throughout... As well as an amazing rhythmic figure that repeats and repeats its way deep into the psyche."
Justin Vali - T.G.V "Justin is an amazing musician from Madagascar; he plays an instrument called a Vali, which his family have been making for generations. It's a bamboo tube with unravelled bicycle brake cables for strings. This solo track really sums up the vibe of Malagasy music for us."
For more on the band, including their full tour dates, head to Sydarthur.co.uk, plus here's their latest single...