Playlist - The Family Rain's "sunburn soundtrack" inc Arctic Monkeys, Stones, QotSA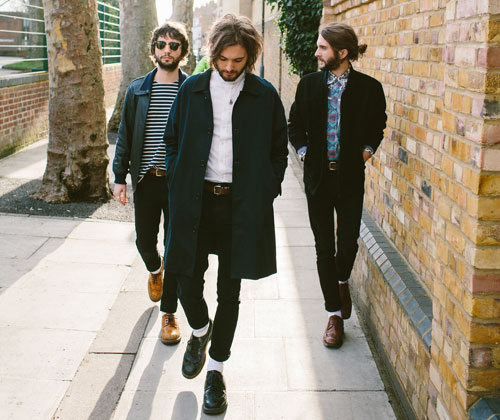 Not that they're obsessed with the weather, but with The Family Rain releasing singe Pushing It on Monday (17 June), Bath's band of brothers have the summer on their minds. To get them ready they've created us this Playlist, their "Sunburn soundtrack"... well that's if the sun actually comes out at any of this year's festivals.
The Rolling Stones - Can't You Hear Me Knocking "We are supporting The Stones in Hyde park this summer. We are huge fans so its possibly the highlight of our summer."
Deap Vally - Lies "Listening to these Californians could bring an ounce of sunshine into the program. We played with them... they get heavy."
Peace - Bloodshake "Like an exotic cocktail by the pool. This song is refreshing and has a shot of the delicious producer Jim Abbiss."
Wolf Alice - Fluffy "This is a large slab of beef on a BBQ a heavy belter of a track."
Arctic Monkeys - Crying Lightning "We have never had the chance to see them live, but we play at the Hurricane and South Side festivals with them this summer...hopefully they will play this track it's one of our favourites."
Suzanne Vega - Tom's Diner "Recently rediscovered this classic, and just in time it has summer pie running all the way through it."
Chester Watson - Phantom "This boy is crazy at only 15 he is killing it. We also got him to do a remix of Friction for us which was great fun."
Queens Of The Stone Age - I Appear Missing "Really looking forward to this album. What we've heard so far sounds amazing definitely another band who we hope to see live this summer."
Happy Mondays - Step On "This is a hotel bar - poolside hangover - filthy cocktail of a track which always helps you let loose."
Bob Marley - Soul Rebel "Any respectable Summer barbecue needs bob Marley mixed with cold cider. Perfect."
For more head to Facebook.com/thefamilyrain, plus here's Pushing It.