Guest Column/ gallery – Musicians At Home III by Absolute Radio's Andy Bush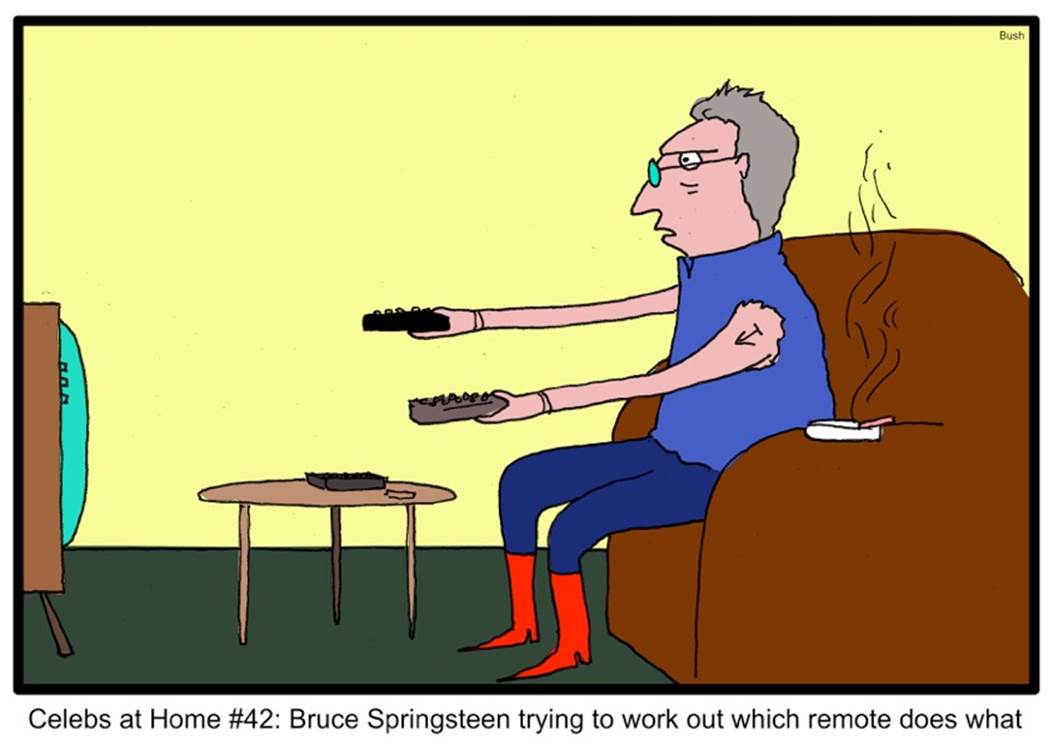 [new_royalslider id="82"]
When not on air for our pals Absolute Radio, weekdays 1-4pm, Andy Bush is wondering what his favourite musicians are getting up to at home. Imagining what goes on behind closed doors – with the help of his listeners – the DJ has severed-up a second instalment of cartoons capturing rock'n'roll domesticity (above).
Another month, another collection of weird celebrity pictures. I'm going through a period of burning the toast all the time, and we've got the world's most twitchy smoke alarm at home which always announces my stupidity to the rest of the street – so I wondered if this most mundane of life problems ever happened to Kanye West? The lovely Fran Healy from Travis has just started doing some excellent shows for us on Saturday nights here on Absolute Radio, so I thought I'd welcome him to the building by drawing him getting accidentally locked out of the house (please note the flowers in the window).
In addition to this I debate whether Chris Rea ever takes time out to play the service station 'fruities' on his annual drive home for Xmas and we peer into Simon & Garfunkel's bedsit… enjoy. Andy Bush @bushontheradio
Head to Absoluteradio.co.uk for more.